Published in Huffington Post
http://www.huffingtonpost.com/mike-ghouse/muslims-celebrate-the-cha_b_861443.html
Since Sept. 11, 2001, a negative image of Muslims was successfully portrayed in the media, tilting Americans toward buying stereotypical images of Muslims. However, the year 2010 witnessed a dramatic shift in auto-correcting that error by un-stereotyping Muslims.
The Ground Zero Mosque, nay, the Muslim community center in New York was a major turning point in adding the average American Muslim to the media mix of the public faces of Muslims who are not only moderates but also contribute to the overall peace, prosperity and security of America.
While the intolerant ones in all groupings are in a panic mode, the religious leaders from every faith spoke up against gratuitous divisiveness caused by demonstrations at a Mosque in California or other mosques including the Ground Zero Mosque. During all of this Americans got to hear the common Muslim voices sidelined heretofore.
The moderate America is a powerful body that remains silent, but when the extremism reaches its limits, they will act and restore the goodness to America. They will speak up and not let a few tear down America's cohesive fabric, they have done it before and they will continue to do that.
The capstone to this sea change is the end of an evil era; thank God Osama bin Laden is now gone for good. It is some of the best news Muslims have had in a decade. We are delighted that an evil era has come to an end with the death of this evil man. It brings a sense of justice and relief to nearly 3,000 fellow Americans.
Time to Celebrate
It is time to celebrate the un-stereotyping of Muslim Americans who are adding to the goodness of America and the world.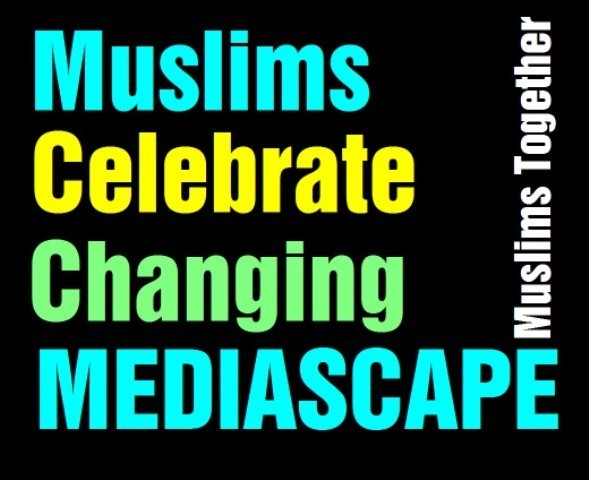 The biggest celebration for humanity are the peaceful revolutions in the Arab World while the dictators and monarchs are resorting to violence signaling their last ditch effort before they run into a hole. The peaceful revolutions have upset the business of a few who had successfully cashed in on painting Muslims as terrorists. I hope and pray that they can do wonders by apply their passion in building cohesive societies.
Time Magazine lists several Muslims among the 100 Influential individuals of 2011. They are not only the heroes for heralding a new era but they also provide positive role models for Muslims to look up to.
Mohamed ElBaradei writes in Time about Wael Ghonim
, the #1 pick by the time, "By emphasizing that the regime would listen only when citizens exercised their right of peaceful demonstration and civil disobedience, Wael helped initiate a call for a peaceful revolution. The response was miraculous: a movement that started with thousands on Jan. 25 ended with 12 million Egyptians removing Hosni Mubarak and his regime. What Wael and the young Egyptians did spread like wildfire across the Arab world."
Time writes, "Yet Maria Bashir, 40, Afghanistan's only female prosecutor general, defies the odds -- and the death threats -- to battle corruption, crime and domestic abuse. On paper, Afghanistan's laws protecting the rights of women are robust. In reality they are ignored. Bashir's campaign to enforce the laws -- in 2010 she handled 87 cases on behalf of victims of domestic abuse, including forced child marriage -- may appear Sisyphean, but she is establishing precedents that will become the foundations of a just and equal society."
Imam Feisal Abdur Rauf of America is also listed on Time's 100. He was unfortunately roasted by the politics of a few for short term political gains of the day, overlooking his long term commitment to interfaith initiatives to build a cohesive America and to become a beacon of hope for those who believe differently anywhere in the world.
Since the Ground Zero Mosque issue propped up, I have been a representation of moderate Muslims on Fox News's Sean Hannity show. Thanks to Hannity for having the courage to present at least a semblance of another point of view in the world of right wing politics. Of the nearly two dozen appearances on his show, Hannity called me a defender of the imam, although it was what the imam represented that I defended.
America has been a world leader in innovation, science, medicine, technology, information and other things; it is time for us to lead the world in pluralism through the interfaith movement. The Imam has a vision to lead us onto a moral high ground, once we the Americans see the larger good that it brings to America; we will earn the courage to ask other nations to emulate us -- and not the other way around.
Rev. Tully writes about the imam, "At a Manhattan church in 2004, a woman asked Rauf to explain hateful Muslim rhetoric. He gently proposed a deal: 'You take the best of our tradition as a start, and I'll take the best of Christianity ... From there we can build.'"
His highness Aga Khan's work is a shining example of what Islam is all about; God has entrusted humans with a life to be respectful to it and care for others in order to create a cohesive society where God's entire creation can live in harmony. Aga Khan's network of services lifts up the Muslim Spirit to serve and to create a better world for every human on the earth.
He received the 2011 University of California San Francisco Medal, the University's most prestigious award. The plaque reads, "The Medal ... recognizes outstanding personal contributions in areas associated with the University's fourfold health science mission providing top-quality patient care, improving the understanding of the factors that affect human health and serving the community."
Empowering women is crucial to bring about a positive change in a given society and the Nobel prize Laureate Dr. Muhammad Yunus' is making that difference with micro-financing in Bangladesh. Dr. Tariq Cheema, founder and chair of the World Congress of Muslim Philanthropists announced the launch of a global initiative called "Empowerment through Enlightenment." All of this will have a cumulative multiplier effect toward a positive change in the world.
Finally, Bill Gates writes about Azim Premji, "Inspired by his belief that a strong educational system is essential to sustaining the economic growth needed to pull millions of Indian citizens out of poverty, Premji, 65, is deeply involved in efforts to provide universal primary education in India. The Azim Premji Foundation supports programs that reach more than 2.5 million children."
What do all these men and women have in common? They are boundless and serve the whole humanity and not just their own flock, thus fulfilling a major task God assigns to humanity, the best among you is the one who knows each other and cares for the other.
Congratulations to all those who are committed to building cohesive societies whether they made the list or not, but celebrate we must to uplift our own spirit to serve humanity.
Follow Mike Ghouse on Twitter:
www.twitter.com/MikeGhouse
Mike Ghouse is committed to build cohesive societies and believes the role of a Muslim is to mitigate conflicts and nurture goodwill.

He is available to speak at your place and his work is indexed at

www.Mikeghouse.net